RE-IMAGINING COMMUNITY COLLEGE
OUR MISSION
An inclusive college community inspiring excellence in education, creating opportunity, and transforming student lives.
Raritan Valley Community College — nationally recognized for our educational excellence, innovative programs, dedication to service learning and environmental sustainability — has been consistently ranked the #1 community college in New Jersey. Why? Because we transform lives by providing a launchpad to a diverse group of students, resulting in greater social mobility and career opportunities to those who only imagined such success.
The RVCC Foundation* exists to support the advancement and growth of Raritan Valley Community College. Every dollar goes to further RVCC's strategic priorities, from our exceptional students, faculty and staff — to critical programs and innovative initiatives. Our students are at the heart of everything we do.
When you support the RVCC Foundation, you make a dramatic impact in transforming the lives of many, while propelling students to achieve their life goals!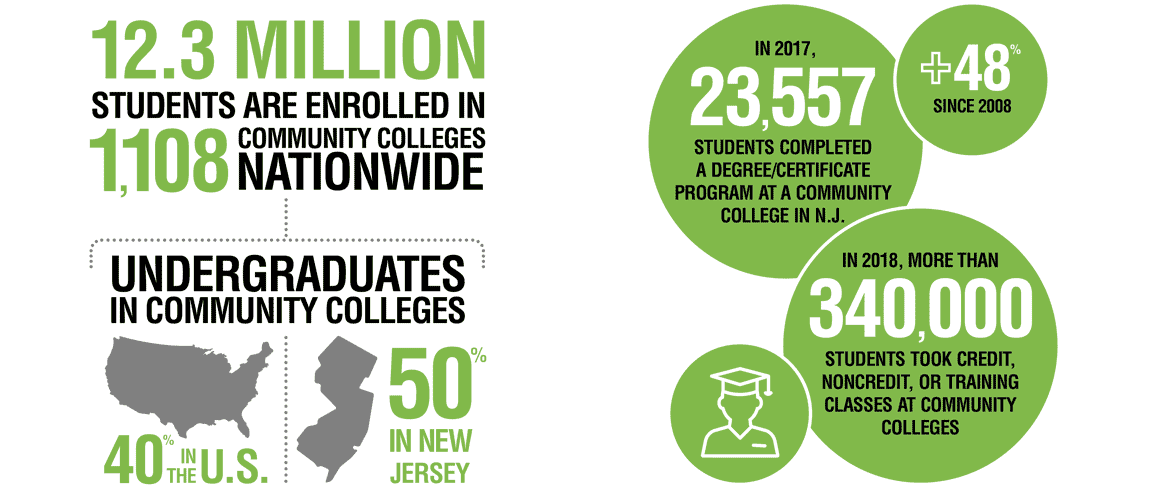 *The RVCC Foundation is a 501(c)(3) non-profit.
REASONS TO SUPPORT
YOUR IMPACT
Whether your support targets scholarships, faculty research, the work of our Institutes, or other initiatives of the College, every dollar donated to the RVCC Foundation has a direct impact on the trajectory of each student's life, providing the highest dollar-for-dollar impact. Relative to the larger public and private four-year institutions, RVCC is a small, accessible community where your support can be seen, felt, and recognized!
We are supporters of RVCC as we've seen its impact first hand. Our daughter is a soon-to-be proud graduate and RVCC was instrumental in launching her life's journey — building her confidence. We put RVCC at the top of the list of what makes central New Jersey a great place to live. It is a true gem — we're honored to be counted among its supporters and champions.
— Steve & Betsy Knapp
OUR STUDENTS
RVCC is committed to making higher education affordable for every student, but even RVCC's modest tuition and fees present obstacles for many. The cost of modest tuition presents many RVCC students with the inability to meet the basic expenses of life: transportation, food, housing, etc. Now more than ever, your support can have a dramatic impact. Consider this:

SQUASHING THE STIGMA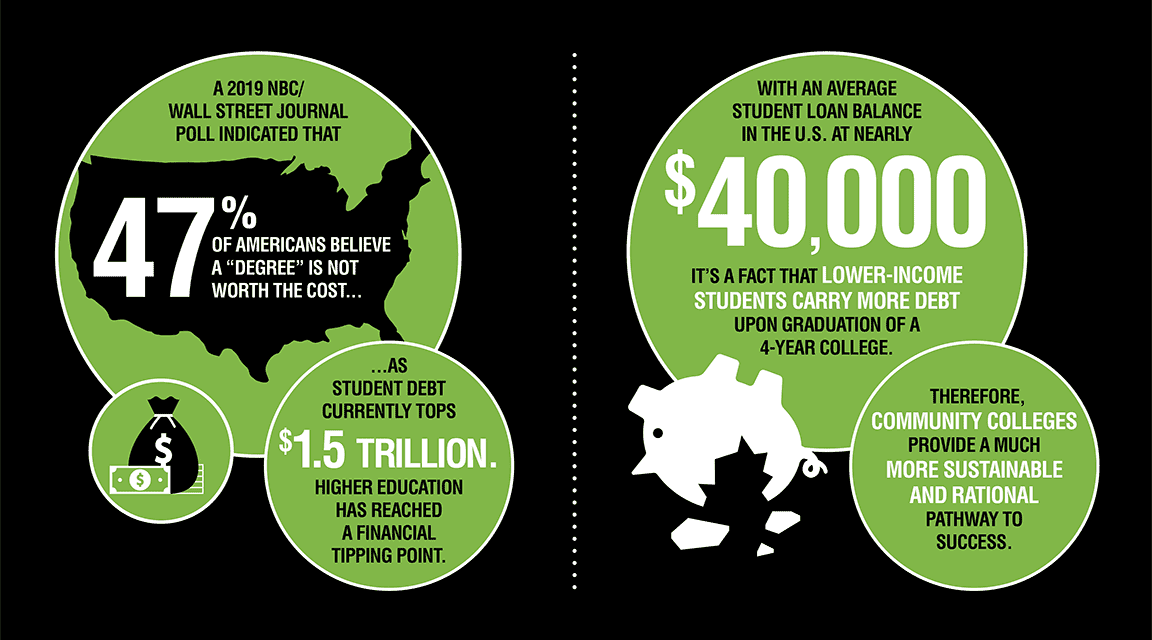 Unfortunately, for too many prospective students, their parents, and even potential donors, community colleges are perceived as "less than" or not as "prestigious" as traditional four-year institutions. But, the reality is much more compelling. RVCC provides all of the traditions you'd expect in college: dozens of clubs, an Honors College, varsity athletics, boundless leadership opportunities — and a supportive educational community, committed to student success. The research is clear: students who start their journeys at a community college perform as well, or better, at their transfer institutions as students who begin at four-year schools.
SUPPORTING NEW JERSEY'S ECONOMY
As a producer of talent and prospective employees, RVCC is committed to creating mutually beneficial relationships with local businesses and organizations of all sizes. We've forged bonds with a variety of NJ partners — from global multi-national corporations, to local businesses and community groups that provide services and support.
For example, since its inception, the RVCC Advanced Manufacturing program has placed more than 160 graduates into jobs with our employer partners, providing the well-trained employees they need. RVCC's Workforce Training Center offers a range of career pathways for students looking to jumpstart their professional lives. And, the good news is that grads who matriculate into jobs with local employers are more likely to stay in New Jersey, helping to reduce the outmigration of young people, which is the highest in the country.
I am continually amazed by how exceptional RVCC is as a resource for the community, and feel incredibly fortunate to be involved with the College. RVCC's Workforce Training Center is among the best in the state and has been an invaluable source of talent and innovation. RVCC students are dedicated, passionate and focused; they emerge with both the skills and enthusiasm to hit the ground running.
— Elissa Santo, Vice President, Atlantic Precision Technology
INVESTING IN THE COMMUNITY
Community college doesn't just mean being located in the community — it involves being an integral part of it. The RVCC Service Learning program, a nationally recognized model and currently only one of two at New Jersey community colleges, provides important "boots-on-the-ground" for local community organizations in need. We believe this altruism offers a lifelong lesson, not just an academic necessity.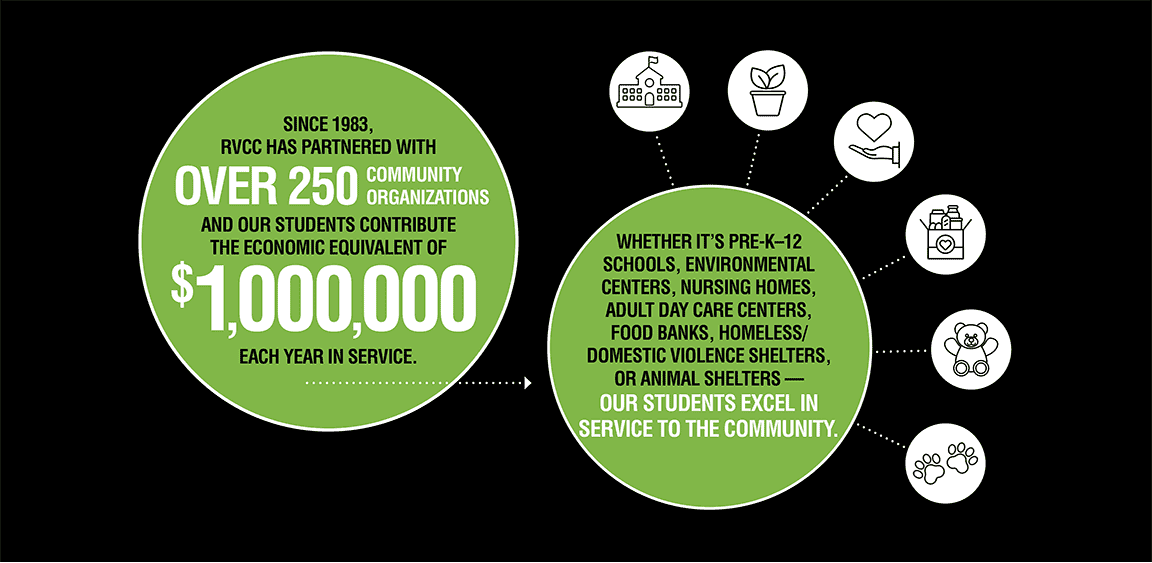 COMMUNITY COLLEGES ARE UNDER-FUNDED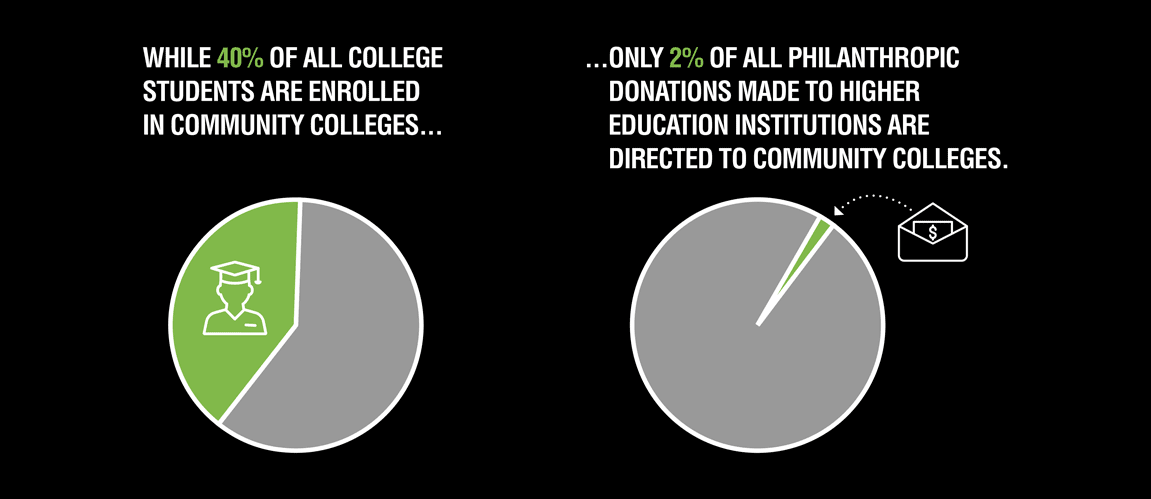 That is an epic disparity at a time when community colleges desperately need support. We invite you to join us in changing this dynamic. Together, we can be part of the solution.